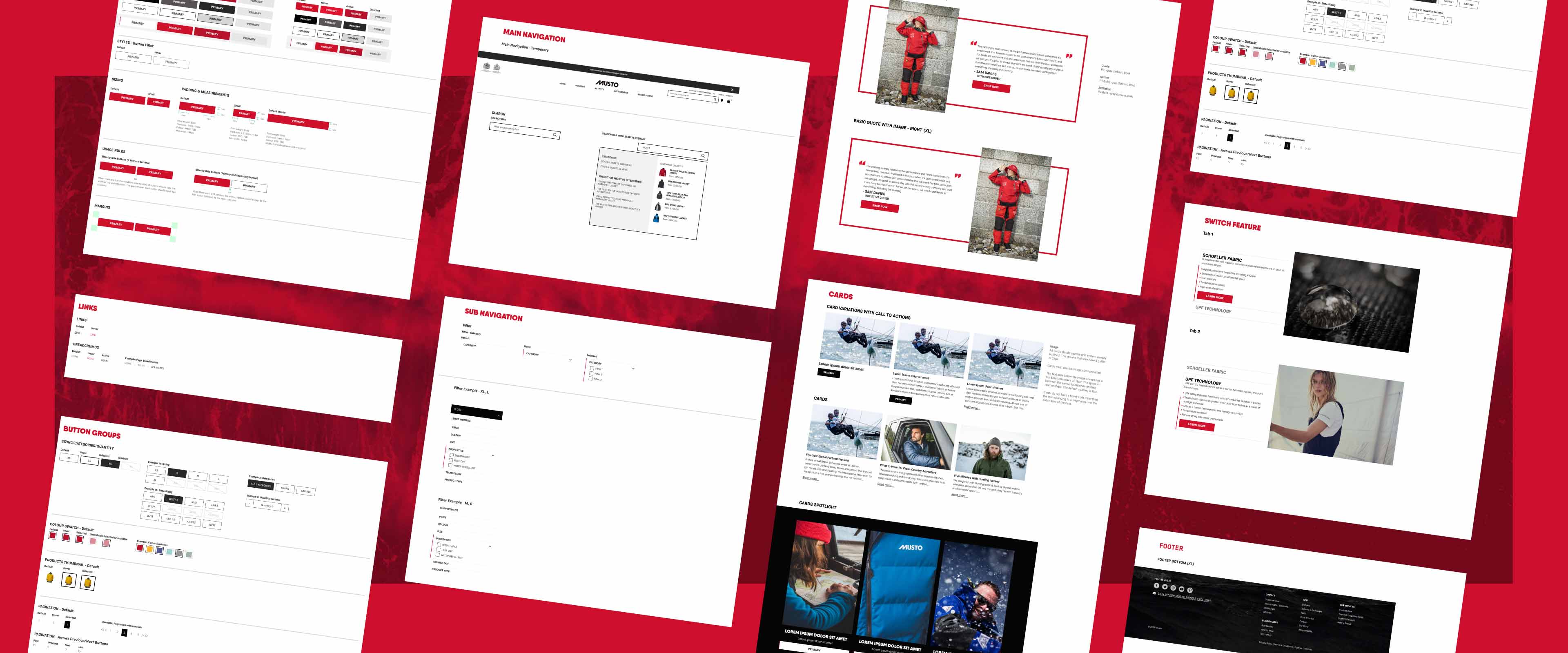 Connecting Organisations Through Design Operations
Problem
MUSTO was struggling to keep up with the latest design trends and their ecommerce platform wasn't working. Helly Hansen had recently bought them and was looking to improve their efficiency. They approached Mates' to help to redesign their digital marketing material and switch to a headless ecommerce platform so that they could save money, improve turnover and collaborate more effectively as a new team.
Insight
With MUSTO being owned by HH, it seemed obvious to leverage some of the great work that the organization had already done on the Helly Hansen Design System and its brand-new headless ecommerce store.
This project was not about not reinventing the wheel or indeed just saving money, but allowing collaboration and interconnectedness. At its heart, they tasked us to bring the two organisations together, whilst preserving what made them unique and appealing. With this in mind, we pitched the idea of creating a multi-brand design system. One that gave clear rules and guidance for team members working together for the first time but the freedom to express each brand's individualities.
In terms of MUSTO's unique individuality and how it could apply it to consumer marketing, it became clear through research that MUSTO has two types of consumers –professional and leisure. Professional consumers are using the products day-in, day-out, and need the premium technical features that the brand offers. The leisure consumer is more lifestyle driven and is attracted more by a content-based approach.
Approach
A multi-brand design system is a set of design guidelines, principles, and assets that are shared across multiple brands within an organisation. It ensures consistency in the visual identity, user experience and branding of products and services offered by the organization. They help to streamline the design process, reduce the time and effort required to create new products and marketing materials and ensure that all products and services align with the overall brand strategy and values of the organisation. They can also help to foster a sense of unity and cohesiveness among the different brands within the organisation and create a more cohesive and consistent user experience for customers.
A multi-brand design system typically includes elements such as colour palettes, typography, iconography, layout grids, and templates for various types of materials, such as websites, marketing materials, and product packaging. It may also include guidelines for tone of voice and messaging, as well as principles for design and user experience.
Developing a multi-brand design system is not as easy as it might seem and there are many ways to do it. We chose a 'one source of truth' system, which means you have one code base adapted to MUSTO's brand needs. Mates Inc. performed an audit to see which existing components could easily be adapted and which components really needed to be recreated in the main design system project. This allowed MUSTO to focus their time and energy on developing only the components that were truly needed to reflect the individualism of the brand.
For the digital marketing portion of the MUSTO design strategy, Mates leaned into the consumer profiles that we'd developed. We created two different themes for not only the website but social media, email communications and digital adverts. These themes revolved around a simple concept, light and dark.
Light would represent the leisure consumer and would focus on telling human stories with photography and video assets. Professional customers would see the dark theme and this would focus on telling the story of product benefits and product solutions to customer problems. Linking these two ideas together was a literal red thread – a thin red line inspired by the red underline in MUSTO's logo.
Feedback
"Bringing two organisations together is already a daunting task. Bringing that together with a website migration and new marketing playbook could have been a nightmare. Thankfully, Mates Inc.'s approach to design and communication meant that we could hit the floor running."
Chris Hammond
Chief Digital Officer, Helly Hansen Group
Impact
Mates were trusted with the complete redesign of the MUSTO digital portfolio. The successful execution of the project not only increased profitability but also reinforced a collaborative work culture. They can now work collaboratively at scale, not only within their own team but also within the broader organisational context. Mates are still involved with MUSTO on a monthly basis in both advisory and practical roles.